CIO Corner.
Our teams of IT professionals are continuing to find the best ways to deliver on the mission of unparalleled safety, quality, service and innovation.
One of our goals is to improve clinical care team efficiency and satisfaction with our systems. We want to design and deploy systems that help our patients and deliver an efficient end user experience for our clinicians and staff.
Putting clinicians first to develop Epic tools.
2019 will bring strategic investment into care team communications and nursing. Specifically, we'll deploy voice-activated badges and mobile devices to nurses systemwide, improving their ability to communicate within and across our care teams.
Clinical care team efficiency is a key goal, and I'm excited about how this partnership can enhance our systems and processes. When we improve our clinicians' ability to communicate with each other, we enhance patient care.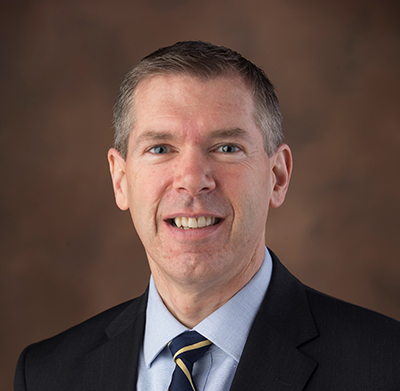 We'll be implementing new tools for secure calling and messaging, push notifications, clinical documentation and – eventually – clinical alerts. These tools will streamline communication tools and methods, making it easier for clinicians to effectively collaborate.
For physicians, I am pleased to announce that we'll be launching an enhanced Epic Physician Builder Program. This initiative allows a select group of physicians to serve as a representative voice for their colleagues and partner with our IT teams.
This program helps us improve Epic with direct physician input, making it a better for our patients, physicians and our staff. You can read more about it here.
Mandate to innovate.
I joined Houston Methodist at an exciting time, when we recently launched our new Houston Methodist Center for Innovation, led by Roberta Schwartz as chief innovation officer.
Clinical innovation is nothing new to our organization. Now, we're doing even more. This means we're significantly increasing our attention on innovation, embracing new technologies, and using existing technologies in new ways, to support our ability to care for our patients.
The new state-of-the art Walter Tower is one of many advances in patient care we've developed. We were the first health care organization in our area to connect with Apple Health, a personal health tracking app linking to MyChart that enables patients to take charge of their medical information.
Maybe you've seen Holmes and Watson, the two security robots at Houston Methodist Hospital. They are joined by Moxi, a robot that can perform simple tasks to support our nurses, like restocking patient rooms with water pitchers and other supplies.
Technology that works for us.
With these and other initiatives, we're focusing on using technology to help our patients, staff and clinicians.
Driving our efforts will be a focus on innovation. It is the partnership between IT and our operational teams that propels our ability to develop technology innovations that improve the experience and outcomes for our patients.