Physician builders. Intersection between health care and IT.
The heavy lifting has ended. Epic is live systemwide. Our work is done, right? Not quite.
Now, we're improving Epic to keep pace with ever-emerging health care protocols and technology advancements. This is a continuous process.
For the first time, Epic-certified Houston Methodist physicians from multiple specialties are providing clinician-specific insight to help us develop and leverage Epic.
What's best for patients.
"As a physician, you want what's best for your patients," said Dr. Benjamin Saldaña, system medical director of the Houston Methodist Emergency Care Centers and assistant director of the Houston Methodist Hospital emergency department.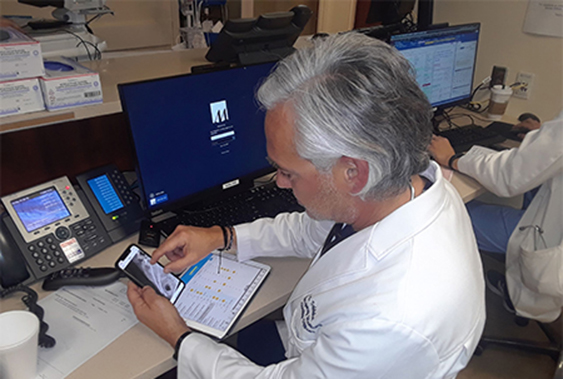 "Providing that care all depends on how well the Epic tool is used, and that depends on whether we build it with the care team's workflow in mind," Saldaña said.
Saldaña is one of more than 20 physicians participating in a new program integrating clinicians with IT. These physicians, called physician builders, come from more than a dozen specialties.
"This role allows me to collate requests from all 15 EDs to customize Epic tools in partnership with IT," Saldaña said. "Direct physician input standardizes the Epic tools that transition patients through evaluation, treatment and disposition."
Supporting shared decision-making.
Providers are helping to build Epic so it's even more patient-centric.
"This shared decision-making helps us develop plans of care that patients understand, and it improves their experience," Saldaña said. "We know that when patients become part of the decision-making process, they're more compliant with clinical recommendations."
"Patients appreciate the use of mobile tools to expedite their care," he said. "They love my iPad. It allows me to review their history and order diagnostics, and display their results in real time. With the right tool, I can design a plan of care in minutes."
Bridging the gap.
Ken Letkeman, chief information officer, agrees. "Physician builders ensure our doctors have a voice in Epic. They know precisely what's needed in each of their medical specialties. They gather feedback on behalf of all our physicians, functioning as representatives of the provider community."
"They also make Epic updates more visible to our physicians and help us better prioritize any changes to meet physicians' needs and concerns," Letkeman continued.
The partnership makes it easier to provide better Epic tools for physicians, on an ongoing basis.
"This program is a fundamental shift for physicians providing care today," said Dr. Nicholas Desai, chief medical information officer, who is leading the physician builder program.
"This is closing the gap between technology and clinical practice," he said. "We finally have the physician builders as liaisons between clinicians in the field and IT, working together to design the toolsets physicians need."
After learning about Epic's technical components and meeting with our IT teams, Saldaña realized the need to overcome a communications gap.
"Now, we're all speaking the same language," he said of the IT partnership.
"Becoming a physician builder created a fresh perspective and new respect for the time required to build an Epic tool. Physician builders can clearly see what's possible from an IT standpoint and learn how to collaborate with IT to meet care team needs."
"We have a finite number of Epic tools, but we can customize them," Saldaña said. "This new relationship helps to streamline and prioritize Epic build."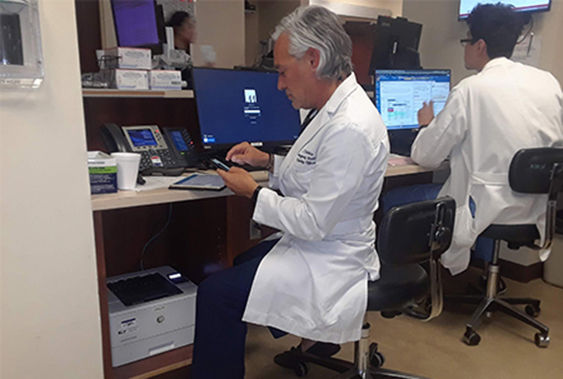 Streamlining solutions. Saving time for physicians and IT.
The physician builder program is doing more than improving patient technology solutions. It's also saving time for physicians and IT teams.
This bridge-building significantly streamlines the time it takes IT teams to understand, develop and deliver provider-focused solutions. With this program, physicians give input before IT starts building the technology.
"As a physician builder, my concerns are, 'How can I facilitate evidence-based best practice? How do I translate clinical workflows into an IT build? And finally, how do we collaborate to combine Epic tools that meet our care goals?'" Saldaña said.
"This is a huge timesaver for all involved," he said. "Representing all our EDs, my peers trust I'm keeping respective workflows in mind. I represent my colleagues in collaboration with IT, and IT hears an array of ED requests at one time."
Multiple specialties. One goal.
Surgeons, oncologists, hospitalists, orthopedists, pathologists, obstetricians – these are some of the areas physician builders are representing. As the program grows, ultimately all specialties will be represented, Desai said.
"We must engage in health care IT," Desai said. "It's a critical component of the provider toolset."
The physician builders program provides that engagement. Physicians work alongside their clinical colleagues, providing IT teams with real-time insight into what patients and providers need most from our technology to achieve the best patient outcomes.