Technology to keep our patients safe.
Washing our hands. Staying six feet away from each other. Limiting large gatherings. Wearing a mask.
In no point in history has safety ever been a bigger priority than during this pandemic. When COVID-19 began, ensuring our patient encounters had an extra layer of security became paramount.
Teams quickly deployed and refurbished technology with our patients' safety in mind.
WELL Health. Better, safer patient communications.
WELL Health is the tool we use to communicate with patients on their personal devices, and it allows patients to set their own preferences for communications.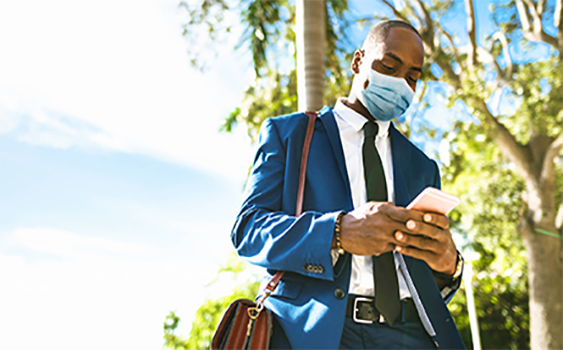 ​WELL Health began before COVID-19, with text reminders of upcoming appointments and confirmed payments.
"With the rise of the pandemic, we rapidly expanded WELL Health so we could communicate more effectively with patients in a way that's safer and more convenient for them," said Brad Shaink, administrative director for the Houston Methodist Center for Innovation.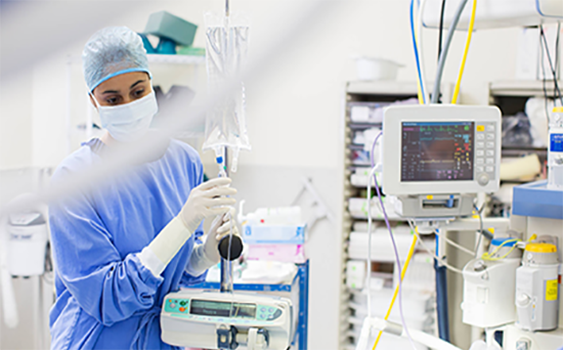 "This includes proactively sending messages to incoming patients, providing specific instructions regarding COVID-19 safety measures, like reminders to wear a mask and limits on hospital visitors," said Shaink, who has led this initiative since its inception.
Getting creative with WELL Health. Two-way communication for safety's sake.
Before COVID-19, WELL Health was mostly one-way. Houston Methodist pushed notifications to our patients.
Clinic staff took this technology to the next level and got creative to help keep our patients safe. When patients arrive in the parking lot, they text the clinic, and the clinic staff text back when the doctor is ready to see them. This step limits waiting room capacity to reduce COVID-19 exposure.
Touch-free payment processing.
When patients make credit card payments, they no longer need to touch a device. Technical teams quickly deployed touch-free payment processing, so our patients can use mobile apps to pay for services. This helps to safeguard our patients and employees and goes a long way in reducing the coronavirus' ability to spread.
Contact-less COVID-19 screening at entrances.
When our patients and employees arrive at our buildings, they step up to a free-standing device, look at the screen and a sensor measures their temperatures – all without human contact.
This makes it safe and easy for everyone. This device works with facemasks, and it displays a green light if the individual can proceed, and a red light if it detects a temperature over 99.6F.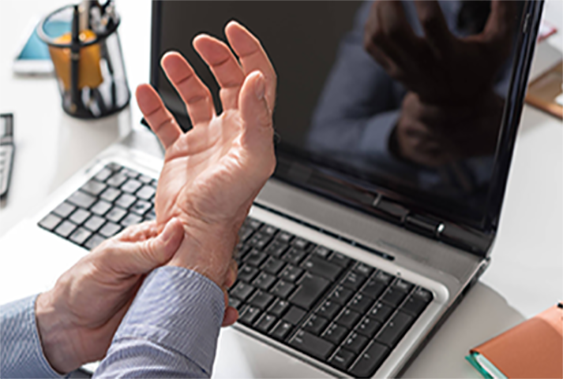 Virtual ICUs.
Another technology that got fast tracked due to COVID-19 was virtual ICUs. The vICU supplements patient bedside care with state-of-the-art audio and visual technology that helps monitor patient status. Remote monitoring takes place from the HM Operations Center, staffed with highly experienced ICU nurses and board-certified intensivists.
vICU also tracks real-time patient data and can analyze the data to predict patient outcomes. This helps create an additional safety net for our patients with earlier interventions. HMW, HMTW and HMH are currently leveraging this technology with HMSL up next.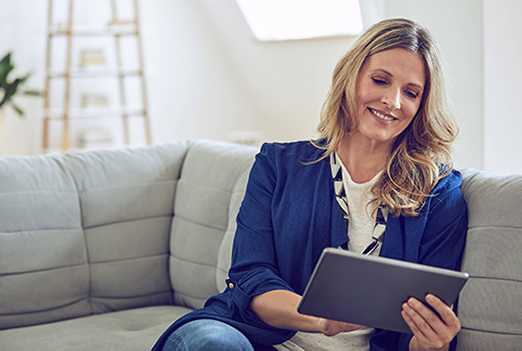 Electronic consent.
Another way we're enhancing patient safety is with electronic consent forms. This eliminates the need for our patients to enter the building to sign paper consent forms and makes the registration process contact-less. Patients can fill out all their forms and pay for their visits, all from home, before their outpatient appointments or procedures. They simply arrive and are escorted straight to their appointments.
Here's what's coming.
We'll be making it easier for patients to self-schedule COVID-19 testing immediately, automatically texting them as soon as a physician orders the test. We'll also expand messaging to include MyChart e-Check-in for our Breast Centers and Weight Management, resulting in patient check-in completed online, away from the front desk.
These are just some examples of how we continually explore technologies, expanding our capabilities across the organization, for one primary reason – to help keep our patients safe.