Innovation takes flight during the pandemic.
At the beginning of 2020, Houston Methodist was well down the innovation path.
Dr. Boom had already launched the Center for Innovation, and teams were actively partnering with technology companies like Epic, Amazon, Apple, TytoCare and others to create cutting-edge innovations centered around our patients.
Then came the pandemic and our city began a major lockdown.
This propelled us into launching more technologies for our patients at a time when we needed them most. Thankfully, we already had a solid portfolio of innovations that we could leverage.
"When COVID-19 hit, innovation rapidly accelerated across our organization," said Michelle Stansbury, IT vice president of innovation and corporate systems.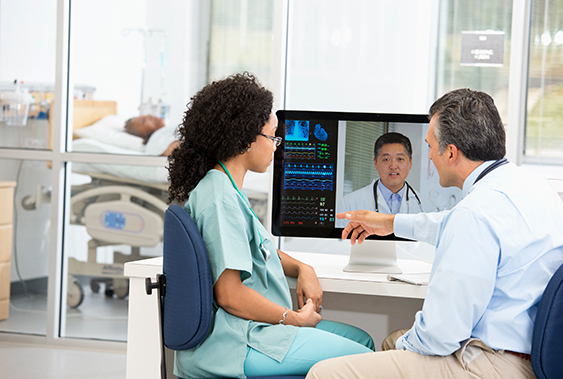 Brad Shaink, IT administrative director for digital innovation continued, "We sped up our strategy to deploy five years' worth of health care technologies in just weeks to meet the immediate needs of our patients during the pandemic."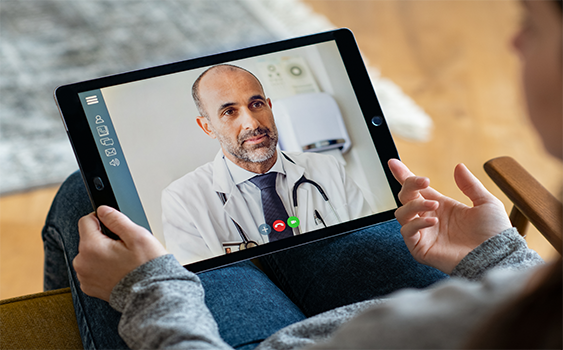 The rise of virtual medicine.
The stats tell the story. Historically, only 66 of our nearly 7,000 physicians were practicing telemedicine with an average of 1,000 patient visits per week.
"Before COVID-19, we were focused on innovation initiatives around patient engagement and access," Stansbury said. "We hadn't seen widespread adoption of telehealth, even though we were trying. Clinicians liked seeing patients face to face."
COVID-19 increased the demand for virtual visits, and we were well positioned to meet this head on, according to Josh Sol, IT administrative director of ambulatory innovation.
"We hit our 100,000th virtual visit in a span of six weeks," Sol said. "It's just amazing to see the growth that has occurred."
More traffic to our Tech Hub.
To meet the demands of our patients who need safe, virtual care, we first needed to train our physicians on how to use the technology.
At the heart of the Center for Innovation is the Technology Hub. Until this point, it had been used to meet with vendors and develop innovative patient-centric technologies.
"We were able to quickly convert many of the rooms in our Technology Hub to train physicians to perform virtual visits," Stansbury said.
"We knew that our virtual technology was going to be needed by many clinicians who hadn't yet been trained in telemedicine. In about three weeks, we trained over 900 physicians on this technology, and our virtual visits have increased significantly since March," she said.
During the six months before COVID-19, we averaged nearly 130 video visits per month. For the six months from March through August, we've averaged close to 24,100 video visits per month.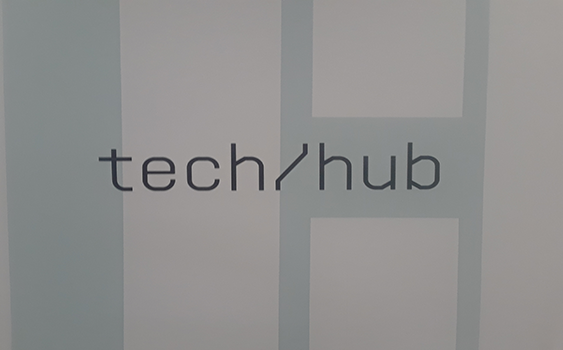 Keeping patients at the center of innovation.
The pandemic also accelerated expansion of more programs focused on our patients.
"When COVID-19 began," Shaink said, "we enabled virtual patient-family visitation to minimize the virus exposure that comes with foot traffic in the hospital." This meant rapid deployment of iPads to hospital rooms so our patients could easily connect with their loved ones.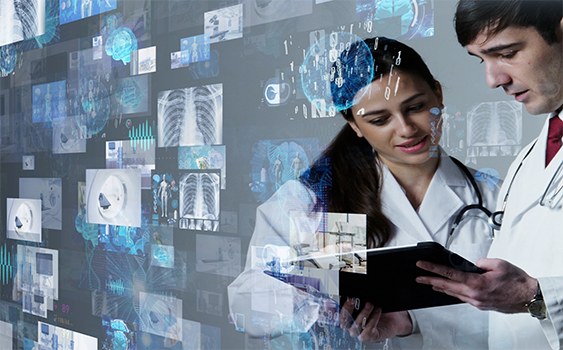 Continuing our patient-focused trend.
The Center of Innovation team continues developing tools that enhance the patient experience.
"We're focused on engaging our patients and making their stay comfortable by bringing technologies to the hospital room that they're familiar with in their homes," Shaink continued.
This includes things like patients ordering their own meals, accessing their preferred entertainment − think Netflix and Hulu − video chatting with family, calling friends with Alexa and more, all on a tablet provided by Houston Methodist.
Another technology in progress will help physicians stay completely focused on the patient during a visit, without having to type their notes into Epic. "We're using wall-mounted microphones and speakers to capture the doctor-patient conversation during an office visit, freeing up the doctor to maintain a lot more eye contact with the patient," Sol said.
New technologies for a new normal.
Rapid deployment of innovations began with a patient-centered need in a time of crisis, and we're deploying new tools faster than we could've imagined possible. Our patients are responding to these improvements that are promoting safer care in the middle of a pandemic.
Our COVID-19 response is just the beginning of many innovations to come. We'll continue pursuing new ideas that transform the way we think about health care, enhancing the way we deliver an unparalleled patient experience.