Vocera badges. Making clinical communications easier.
It's a busy Friday night in the Emergency Department.
A nurse sees a patient suddenly in distress and rushes over to help. But the patient requires more care than one person can provide.
"A nurse can just press a button on the badge and get help immediately," said HMWB Program Director of Informatics Mercedes Summers.
Voice-controlled, wearable devices.
New voice-controlled, wearable devices/badges make calling someone as easy as saying, "I need help," or "Call charge nurse." In just six weeks, nurses clocked 1.7 million Vocera commands, sending a strong signal of technology adoption among nurses and HMH clinical care teams.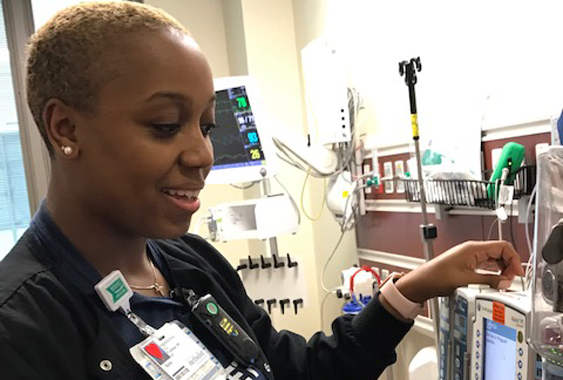 Simplifying communication.
Simplifying communication among caregivers goes a long way toward improving patient care. "We're nearing completion of a systemwide roll out of the Vocera badges," said HMW Vice President and Chief Nursing Officer Vicki Brownewell.
"These lightweight devices allow hands-free communication, which is especially useful for nurses who are constantly in and out of patient rooms during their shifts."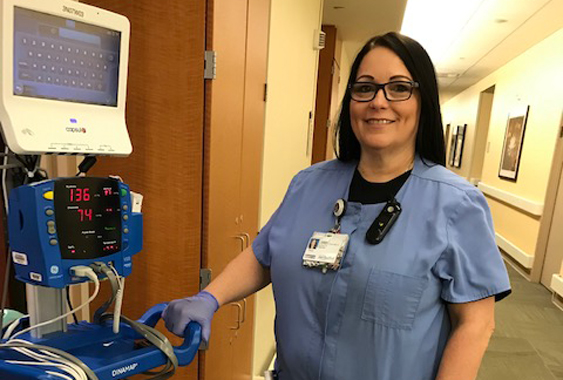 HMCC Patient Care Services Director Amy Anderson agrees.
"It's convenient for nursing staff to communicate, especially when they're busy with the patient," she said. "Unit administrative assistants also can track down nursing staff and other disciplines right away. Patient care attendants seldom use their phones anymore to get in touch with other staff members."
Enhancing patient care and safety.
This new technology is saving time for nurses, which in turn enhances patient care. It frees them up to spend more time in direct patient care. "I've noticed how effective Vocera is, especially in the ED," said Summers, who sometimes wears a Vocera badge to hear what's happening in the department.
The phones the badges replaced were a lot heavier, as well.
"Nurses don't have to carry a heavy phone in their pocket, grappling for it when they need it," said Connie Lauw, HMH senior process optimization specialist. "The old Cisco phones were a lot heavier, and that can weigh you down."
A Fondren 11 nurse told Lauw how much easier it is to make calls right on the spot.
"She said if you go in the supply room and see you're out of blood pressure cuffs, just press a button and say, 'Call central supply' to order more," Lauw said.
"Before now, you had to make a mental note and go ask someone to order more. Now, you don't have to fumble around trying to find a department phone number, or ask someone to make the order."
Brownewell noted how Vocera enhances safety in the hospital.
"I heard from a nurse who was in the hallway when an event started that required security right away," Brownewell said.
"She pushed the button on Vocera, and said 'Call Security.' She received the support needed very quickly. This immediacy is a significant improvement over running to a phone and dialing a number."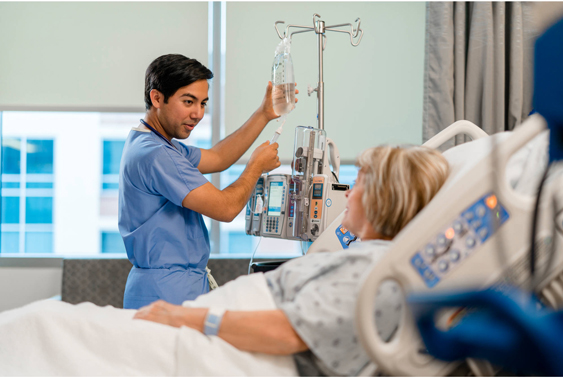 "This push-button communication is improving things for nurses," Anderson said. "Nurses can call PCAs, nurses and other disciplines without looking for phone numbers. They also can send an emergency broadcast without dialing the five-digit number for emergency."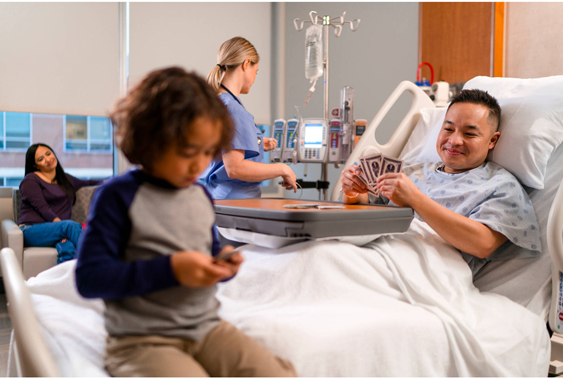 Alerts that make a difference.
Vocera badges allow nurses to program specific alerts. This includes notifications for nurse call, hourly rounding, rapid response, code blue and if a patient unexpectedly leaves the bed.
"It's a very powerful tool nurses can really depend on," Summers said.
"If you need to give a patient critical meds, you may want an alert 30 minutes before and after," she continued. "If you just gave someone morphine, you can set a reminder to do a pain assessment 30 minutes later."
HIPAA-compliant.
Because all calls are on speaker, Vocera allows nurses a degree of autonomy for incoming calls. It asks wearers if they'd want to accept the call, and they respond "yes" or "no."
This is one way of ensuring HIPAA compliance.
Nurses also can place Vocera on do-not-disturb mode when they're in a patient room. Additionally, if they're going to be with a patient for awhile, they can ask another nurse to cover their calls, and then forward their Vocera calls.
Adoption. Ensuring clinicians get tools they can use.
Like many new technologies, Vocera takes a little getting used to.
"There are many features people are still learning," Brownewell said.
"Akin to a smartphone, you can pick it up and learn to make a phone call and talk on it pretty quickly," she said. "If that's your only need, ok. But the longer people use it, the more they're finding different features. There are many tips and tricks to make life easier."
The project team has examined each hospital's roll out to learn how to improve the clinician experience on an ongoing basis.
"We're committed to investing the time it takes to make sure we continue improving," IT Director Michele Baker said. "We want to make sure we have all the key players involved in the process. We're developing not only a strategy for technology, but a strategy for clinical processes."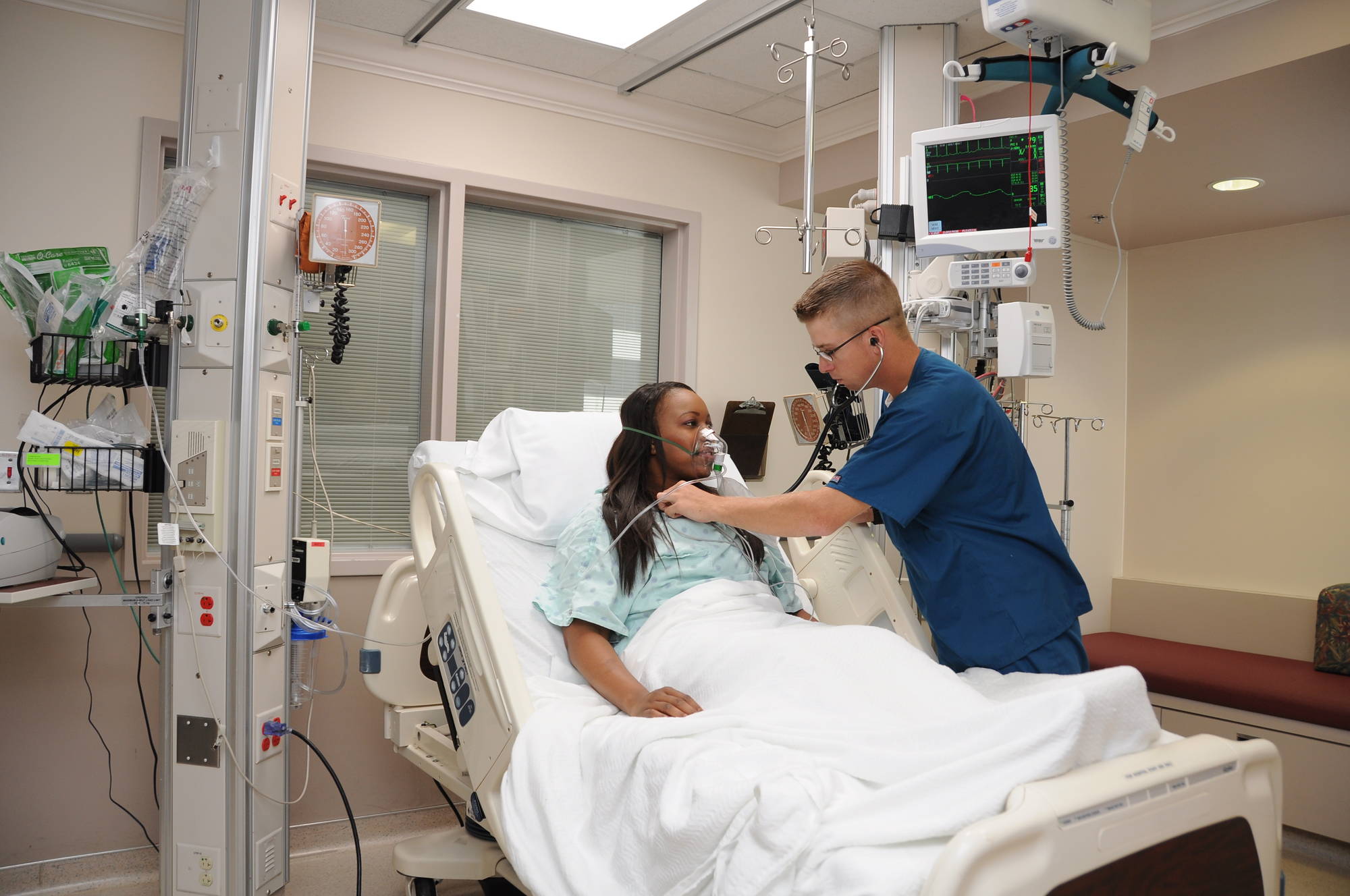 Identifying key issues is one part of that post-deployment investigation. Sometimes it's as simple as someone wearing the Vocera badge outside the voice cone, so it can't hear the commands. In other cases, it's teaching Vocera to recognize the words of someone with a heavy accent.
Adoption metrics, continuing engagement with hospital staff and post-launch debriefings – these are helping make it work for everyone.
Making it easier for everyone on the care team do their jobs. It's one of the smartest things we can do.