Healthy Planet. Giving clinicians the big picture.
It's a jungle out there.
Disjointed medical information that doesn't reach the right people at the right time – that's a problem we're helping to solve with Epic's Healthy Planet.
Healthy Planet's reports, dashboards and tools provide clinicians with the big picture. It gives access to the information they need – from Houston Methodist and outside organizations – to provide the best care for their patients.
This system compiles all this patient data, allowing healthcare organizations to coordinate care, monitor quality and engage patients through a centralized data warehouse, providing a complete view of a patient's medical information.
The right information. At their fingertips.
"This population health platform provides information at your fingertips so that patient issues can be managed faster using newly available comprehensive data," said Beth Ernest, RN, HM Population Health Initiative lead care manager.
These tools help clinicians monitor a patient's care over time, identify any care gaps and take necessary actions to keep patients healthy or improve chronic conditions no matter where they receive care.
"We can immediately access the patient's past and current medical records, such as the medications profile in Epic," Ernest said. "The medication profile can be updated even if the patient has been seen by providers outside the Houston Methodist network."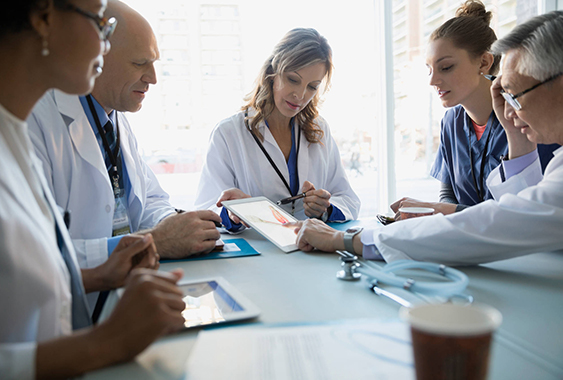 Comprehensive patient overview.
Healthy Planet combines analytics and other clinical tools, giving clinicians a comprehensive view of a particular patient. This includes information like environmental factors affecting a patient's health.
"It streamlines information, such as social determinants like depression," Ernest said. "With all patient information in one place, we can quickly help high risk patients find an appropriate in-network provider and schedule a timely appointment."
When clinicians can see a more complete patient story, they're able to identify risks and intervene to help patients – that's what it means to improve patient care.