Making collaboration easier.
Conference room screen-sharing. No wires, no technical setup.
Just plug and play to share your computer screen on a conference room large screen.
ClickShare.
"Pass the dongle, please."
ClickShare, a wireless presentation tool, lets anyone in the room display their screen on the conference room screen simply by plugging in a dongle.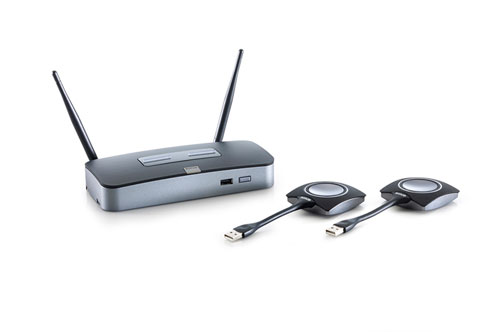 Connect. Click. Share. The three steps to share your screen.
No more cables. Push a button to start your presentation. Pass the dongle (plugs into your USB port) to others who want to share their screen. No software to install, and the wireless connection is sound.
No jump drives. No wires. No problem.
This really is collaboration made easy. Visuals help illustrate points you're trying to make, and ClickShare allows anyone in the room to display information, instantly. It also encourages people to participate more actively. Two people can share simultaneously, as well.
Better meetings. Better decision-making.
It's a new meeting dynamic. Somebody made an interesting point, and you've got something to add. Ask for the dongle, and show your graph, document or video.
Where to get ClickShare.
Contact the IT Help Desk at 832.667.5600 or helpdesk@houstonmethodist.org to order ClickShare for your conference room or office with a large mounted screen. It costs about $1,200 for the setup that includes one receiver and two dongles (the USB plug-in).