Shrinking tumors. A new radiation oncology system makes it easier.
X-rays, gamma rays, charged particles. If you're thinking Star Wars, intergalactic warfare probably does include this type of radiation.
Back on Earth, we use this high-energy radiation to shrink and kill cancer cells. For about half of all cancer patients, radiation therapy is part of the treatment plan. It's a powerful tool that damages the DNA in tumor cells, causing cell death.
However, radiation doesn't discriminate between tumor cells and healthy tissue. For this reason, radiation oncologists, physicists and dosimetrists all participate in the involved process of mapping precisely where radiation beams should go, avoiding healthy tissue wherever possible.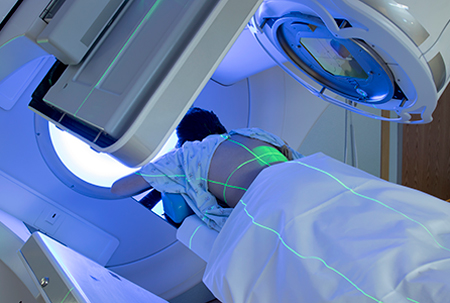 Radiation treatment planning. How it works.
Imagine editing your mom's picture in Photoshop. She wants you to take 10 years off her face. So, you pinpoint any smile lines and the furrowed brow you gave her when you were in high school. You carefully map out those areas, avoiding making any changes to her bone structure, eyes or nose.
That's similar to what the radiation oncology team does when preparing a cancer treatment plan.
"We know where we want the radiation beam to go and what we want to avoid," said Dr. Brian Butler, chief of radiation oncology.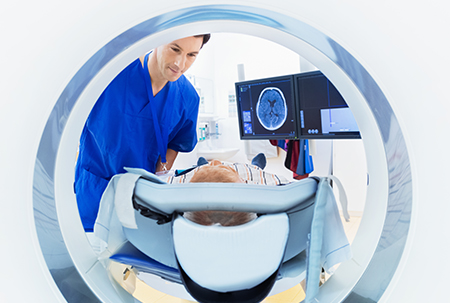 Getting everyone on the same page.
With the old systems we're currently using, radiation treatment is a three-system process. It requires manual data entry to get a patient's treatment information from one system to the next. Not only does that slow things down, it also introduces the potential for error.
But a new radiation oncology system that debuted at Houston Methodist The Woodlands will make it easier for the radiation oncology team to deliver this targeted therapy. The new Varian system will roll out systemwide over the coming months.
"We're consolidating three disparate radiation oncology treatment systems into a single, integrated oncology platform," Dr. Butler said. "Everyone can be on the same page. It's a system solution to a major problem."
The new system will combine radiation, medical and surgical oncology information into a complete, oncology-specific Epic record.
This allows clinicians to manage the patient's entire journey — from initial diagnosis through post-treatment follow-up. Physicians are able to monitor radiation dosages immediately, and review treatment images to identify whether the current plan is working or whether adjustment is needed.
Eliminating the middle man.
"We'll be able to schedule the patient and conduct the scientific process of tailoring treatment, all in the same system," Dr. Butler said. Eventually, the new system will create tighter integration with Epic.
"With this system, we'll eliminate manual data entry, introduce real-time image viewing and enable systemwide info-sharing of treatment specifics for each patient," he said. "These things will make us more efficient in helping cancer patients."
The current system requires a lot of work to get information routed from planning to the patient's actual treatment.
First, the team takes a ton of CT and other images and sends them to the planning system. This system does some high-wire computations simulating the radiation beam specifics. Things like, where radiation beams will land on a patient, type of radiation, the dose and the intensity.
A dosimetrist then enters this info in the next system, the electronic health record holding all the patient's medical information, including the images and physician notes guiding the radiation treatment planning.
Finally, someone enters that info into the radiation treatment machine, now ready for the patient. This machine is called a linear accelerator. It uses electricity to form a stream of fast-moving subatomic particles that damage a cell's DNA, causing cell death. That's how radiation shrinks tumors.
Replacing this manual process with automation – that makes it better for everyone.
Improving patient care. Saving time.
For patients, the new systems mean they can start cancer treatment sooner than before. They'll also spend less time on the radiation table.
"Planning turnaround time will be quicker, so treatment can begin earlier," said Dr. Ramiro Pino, chief radiation physicist. Also, clinicians throughout Houston Methodist will be able to see the same patient information.
"Dosimetrists will love it that they no longer have to do manual entry from one system to the next," Dr. Pino said.
"Physicians will love the integrated tool that makes it easier to ensure the treatment simulation in one system matches the information in the radiation machine," he said. "This will take place in real time, with no delays, while the patient is on the table."
Additionally, sophisticated bioinformatics will allow physicians to analyze how tumors have responded to a certain radiation plan for a specific type of cancer. This means they can tailor radiation doses to maximize tumor reduction while minimizing radiation late effects.