Epic. Mission accomplished.
We've completed a $293 million Epic rollout in eight major Go-Lives from March 2016 to June 2017. The complete patient story, including all inpatient and ambulatory encounters, now is available to clinicians all on one record, all in one place.
These Epic implementations successfully introduced new technologies focused on patient safety, including barcode medicine administration and Houston Methodist MyChart. More than 181,000 patients have activated MyChart accounts.
The 2017 numbers tell the story.
21,000+ appointment requests
16,000+ appointments scheduled online
89,000+ medical advice requests
10,000+ medication refill requests 
43,000+ online payments
8,000+ mobile users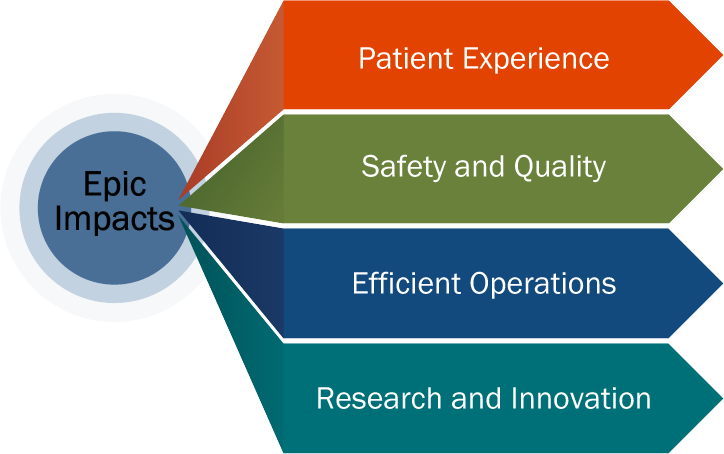 Using Care Everywhere, we've exchanged over 5 million patient records.
We assembled a fantastic project team who partnered with operational experts to safeguard operations activity and revenue. Incredible efforts from everyone throughout the organization contributed to making Epic a success. Pay-it-Forward, Pay-it-Back super users who worked at their hospitals and others, non-clinical staff who rounded on patients and spiritual care team members who prayed for us. The groups of people to thank are way too long to list here.
Partnered with clinical operations and 800 subject matter experts (SMEs) and 200 physicians who contributed over 40,000 SME hours to set standards and policies and define workflows
1,000 new workstations on wheels and 23" monitors installed in patient care areas
Trained 19,717 people, offered 7,748 courses and taught 45,042 courses
"Our implementation was a huge success and exceeded expectations," said Dr. Marc Boom, Houston Methodist president and CEO. "Since all of our patients' records are now available in one place, it is easier than ever for physicians and staff to access them."
Epic Corp. awarded us a notable 8 out of 10 Gold Stars based on physician productivity, operating margin success, population health, patient engagement, value from data, nursing productivity, community and quality and safety after our first wave of implementations. We delivered the project on time and within budget.