CIO Corner.
One of the things I enjoy most about IT at Houston Methodist is deploying technology that helps our clinicians improve patient care above and beyond what they do each day.
Our clinicians and researchers push the limits to continually improve care. To provide simple technology and support has incredible potential to enhance the patient experience.
In IT, we have a singular vision statement — make it easier. Technologies exist to make it easier, not to fill our lives with complexity and drama (we have plenty already). So many of the technologies we use in our consumer world exist because they make it easier. Amazon makes it easier to have products dropped off at your front door. Uber makes it easier to find a ride to your destination. Online travel sites make it easier to find the flight you want to make it back to your friends and loved ones.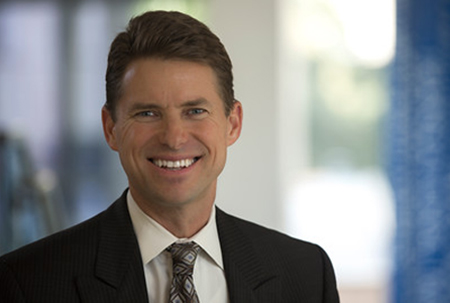 Robert K. Eardley, Chief Information Officer

The vision to make it easier comes from my core belief that healthcare technology breakthroughs will make it easier for clinicians to deliver exceptional patient care.
Our philosophy is to design solutions that are Simple. Intuitive. Mobile. We are not quite there, but that is what we strive to design. For anyone who has a TV, they know first-hand how watching a show has become more complicated over time. It used to be channel up/down, volume high/low. Now we have remotes with 50 buttons. I need a tutorial just to have my babysitter watch TV.
This is technology that has not matured to make it easier. Modern EHRs suffer a similar complexity identity. They need to handle an enormous number of complex tasks but that means that some routine tasks also are mired in screens so dense you need a magnifying glass to make out all the choices.
It's not what the software does — it's what our people do with our systems. We design and test our applications with usability as our focus, meaning how easy it is for the people using the technology.
Epic. A nervous system transplant done right.
With the launch of Epic at The Woodlands, we've completed a three-year systemwide transformation that's consolidated many disparate systems — clinical and business — into a single, fully integrated technology.
Dr. Marc Boom, president and CEO, has called the Epic implementation a nervous system transplant, with complexities, risks and impact affecting the entire organism. I'm very proud of our Epic team for shepherding us successfully through this complex process and for the achieving the best Epic implementation ever.
In fact, we've been so successful that Epic corporate offices have awarded us an unusually high adoption rating, placing us in the top 6 percent of all hospitals using Epic. Houston Methodist should be proud that no other hospital has come live with such a high level of adoption.
During each Houston Methodist hospital Go-Live, we protected our revenue by maintaining our patient volumes. This singular accomplishment has eluded a number of other hospital organizations in their Epic launches.
We also simplified patient bills so patients receive one statement for all Houston Methodist services.
Three things were key to our Epic success. Pride in preparation, leveraging lessons learned from every successive Go-Live and an incredible partnership between IT and operations. We couldn't have achieved this systemwide transformation without the dedicated teamwork and engagement of leadership, employees and clinicians throughout Houston Methodist. This is a monumental step forward in enhancing our ability to deliver the highest levels of patient care.
Medical device integration. Better monitoring for our most vulnerable patients.
Some of our projects have high visibility, like Epic, and some seem to happen behind the scenes with little fanfare. The recent medical device integration project is an example of a high-impact clinical technology for patients in acute care.
Now, a single free-standing mobile unit captures patient information critical to patient care in ICUs, PACUs, the ER and procedure rooms. These medical devices monitor things like a patient's vital signs, and ventilator and anesthesia equipment. This patient data feeds directly into Epic.
The biggest gains come from reduced manual entry. This yields two major improvements — reducing the risk of data entry errors and freeing up clinical staff to spend more time with patients, because they spend less time keying in data.
Artificial intelligence in medicine. It's what's coming.
It's not just for science fiction movies anymore. We're now targeting artificial intelligence as a tool to help make predictions that will improve care and outcomes.
Right now, artificial intelligence can perform "simple analytics and data interpretation, as well as complex genomic sequencing and patient-care prioritization," according to the American Medical Association.
With this cognitive technology, computers can learn how to recognize a cancer cell, aiding in diagnosis. As part of the learning process, researchers expose computers to many non-cancer cell images, enabling the computer to differentiate when it sees a cancer cell image.
Artificial intelligence uses "deep learning" algorithms. Currently in development, these algorithms are positioned to augment physician decision-making in pathology, cardiology, oncology and radiology, to name a few. And there are more opportunities on the horizon. In the future, artificial intelligence will be able to diagnose a disease based on a patient's scan, according to the National Institutes of Health.
All of these advancing technologies should have one simple goal — make it easier to achieve our goal of unparalleled safety, quality, service and innovation.