Baby, it's cold inside. Biobanking requires it.
Who knew it matters whether you store a biospecimen at -20°C or -80°C. (Hint: -80°C works for most samples, but -20°C is way too hot). Or that you need -200°C to preserve live cells, which differ significantly from other stored tissue samples.
For a chilling comparison, the dark side of the moon is roughly -173°C. So, even that's not cold enough to maintain live cells without enzyme degradation. And forget about your kitchen freezer, hovering around -18°C (0°F).
Buying the right freezers — it's one small step in a really involved process.
Without this big chill, biospecimens can undergo changes in their molecular profile, before ever getting to the research bench — corrupting any clinical trial results, according to the National Cancer Institute.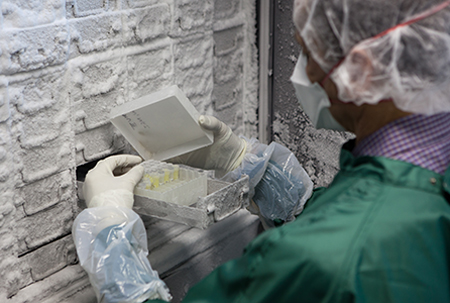 And without an excellent lab information management system, tracking the many components would be impossible.
The Research Institute Biorepository is a critical component of the Houston Methodist research directive, continually advancing our knowledge to enhance patient care.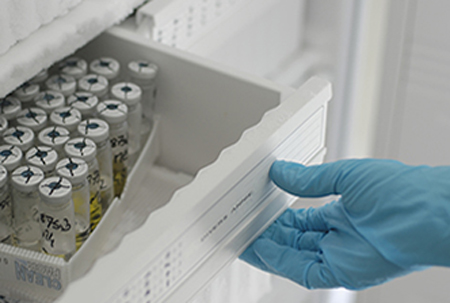 Automating processes. Managing biospecimen life cycles.
A new LabVantage software system helps the RI Biorepository run more efficiently by automating tasks and integrating multiple instruments and systems.
This tool reduces manual data entry, provides consistent processes and helps ensure compliance with best biobanking practices. Advanced search and trending tools also save a lot of time for scientists. It also provides security and auditing that ensure data safety, as well as helping us comply with local, state and federal regulations.
These streamlined lab operations all make it easier to manage the biospecimen life cycle.
Basic science. Advancing medicine.
Biospecimens play a key role in biomedical research. These specimens are used in all phases of medical research, from basic science with in vivo animal research to cancer clinical trials in humans.
"The biorepository acts as a gatekeeper and custodian for biomaterials," said Dr. Rajeev Singh, director of the RI Biorepository. "We document patient informed consent, protect patient confidentiality and provide high quality, correctly processed biomaterials to our researchers and collaborators."
A biorepository is required to compete for many public and private grants and clinical trials. Without the RI Biorepository, Houston Methodist researchers couldn't even apply for many funding opportunities.
"Our biorepository is unique because it focuses solely on supporting our Houston Methodist researchers, at no cost to them," Dr. Singh said. "It has grown with the RI and was one of the first core resources."
Acquiring and storing biospecimens.
It's an involved process – acquiring and storing biospecimens, maintaining their integrity for the next research project.
It includes guaranteeing an intact "chain of custody" – the same term used for evidence tracking in a criminal trial. Biobanking requires HIPAA compliance for any patients or healthy individuals donating tissue samples, including maintaining the individual's signed consent throughout the life of the sample.
The multi-step process involves collecting the sample from the patient, then processing, storing and transporting it to researchers. And finally, restocking any unused portion. A lot to keep track of. Which is why the RI Biorepository maintains precise protocols for managing each step along the way.
Here's what's in those freezers.
"We store a large collection of snap-frozen solid tissue and blood components, as well as other body fluids." Dr. Singh said. "This includes rare biomaterials for future use in neural cancer research, orthopedic model research, ophthalmic genetic cancers, development of cancer models and cell lines."
Additionally, they biobank a large collection of cryogenically preserved xenografts – critical for basic cancer research that often involves mice injected with human cancer cells, as well as managing research use of diagnostic specimens from the Department of Pathology and Genomic Medicine.
Keeping it cool – a key component to advancing medical research.