MethOD hospital admissions. Now streamlined.
Prevent duplicate and canceled admission orders. Improve DVT risk assessment documentation.
We've rolled out MethOD changes that improve patient safety by enhancing the hospital admissions documentation process. This quality initiative decreases the chance of errors occurring during admissions.
Process improvement that helps patients.
Key changes include simplifying the admission orders process, as well as providing easier access to the required DVT risk assessment and working diagnosis. We've modeled these changes after Epic to ease the transition coming this year.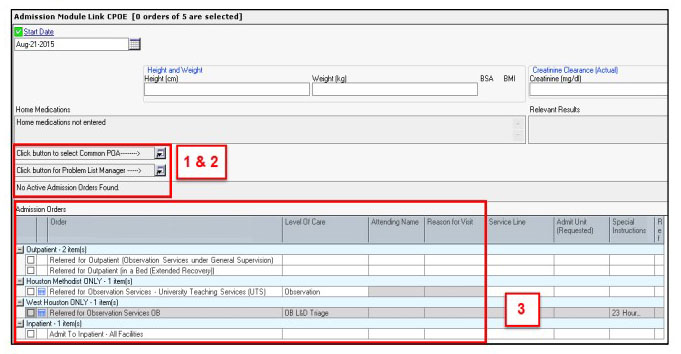 "We've replaced admission grids in disease-based order sets with a convenient link to admission orders," said IT Clinical Systems Director Penny Black. This helps prevent duplicate and canceled admission orders. To improve DVT risk assessment documentation, a link now provides easy access to the new streamlined DVT tool. Additionally, now, entering a patient's working diagnosis is as easy as clicking a button.
Three extra clicks for physicians.
The new format requires physicians to make three extra clicks or they can't continue with the admission. There's now a link for an admission order, link for DVT risk assessment and a button to identify a working diagnosis.
These three clicks eliminate the manual effort the process previously required from case managers, the quality department and Health Information Management.
Completed at all hospitals.
We completed a systemwide rollout at the end of 2015, concluding a hospital-by-hospital deployment lasting several months. Black reached out to all community hospital CNOs and CQOs to schedule physician training.
"We've provided hands-on support for physicians at all hospitals, and the team is available to continue assisting as needed." Black said.