Prepare to maximize your uptime during a downtime.
As Houstonians, we've learned that it's critical to prepare for hurricane season, well in advance of any storm. Simple steps like signing up for emergency alerts, developing an evacuation plan and stocking up on critical essentials can be lifesavers. At Houston Methodist, preparation for major IT incidents is equally important. If you can't access Epic, it's important that you know how to get the resources you need to maintain continuity of care.
If a major storm is coming, you stock up on canned goods, water, batteries and gas for the car. Fortunately, if there's an IT emergency, much of the preparation has already been completed for you. Comprehensive business continuity plans and workflows have been planned out for every role and department. The key is knowing where to find these plans and how to use all the downtime resources when you need them.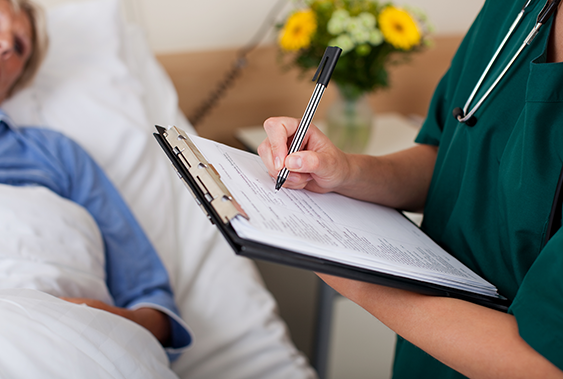 "Our ability to care for patients did not stop for a pandemic and won't be interrupted by a weather or technology event either," said Vicki Brownewell, RN, Houston Methodist West Hospital chief nursing officer. "Our patients depend on us 24/7, and we must always be ready to provide complete continuity of care. Our downtime planning and procedures are designed to do just that."
How to prepare for a downtime.
In the event of a planned or unplanned Epic downtime, it's important to familiarize yourself with the resources and workflows you need so patient care isn't interrupted. Follow these steps now so you are prepared.
1. Visit the IT website at it.houstonmethodist.org/downtime.
This site has valuable resources, including a calendar of upcoming planned downtimes, key instructions, downtime order sets and a quick reference guide.
2. Review the Epic Downtime Quick Reference Checklist and Epic Downtime Manual.
The Epic Downtime Manual has all the information you need to maintain patient care during a downtime, as well as steps needed for recovery. If you only have time for a fast overview, check out the Quick Reference Checklist.
3. Find the downtime computer, printer and downtime kit on your unit.
Did you know there's a workstation or laptop on your unit dedicated to providing essential reports during a downtime? In some units, it has a red keyboard. In other areas, it has a large sticker. In either case, it will be hardwired to a dedicated printer, so it can print the latest available reports from Business Continuity Access (BCA) Printing (see below), regardless of network connectivity.
Your unit also has a dedicated downtime kit, filled with essential supplies, forms and other resources. This kit is typically maintained by your unit secretary or manager.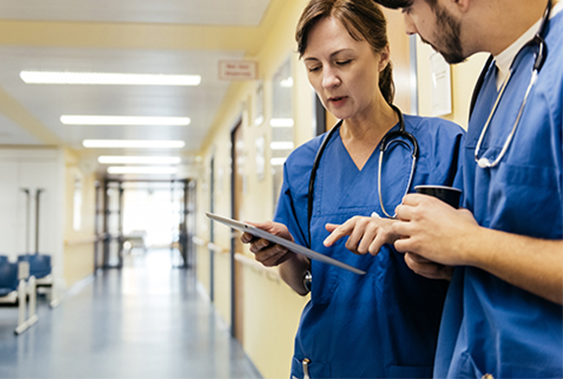 Content in the kit may include:
Facility phone numbers list
Downtime policy and procedure documentation
Downtime checklist
Blank labels
Forms and other documentation, such as:

Nursing documentation forms (flowsheet records)
Blank MAR forms
Blank physician order forms
Blank progress notes
Downtime event forms
Requisition slips
Department-specific order sets and forms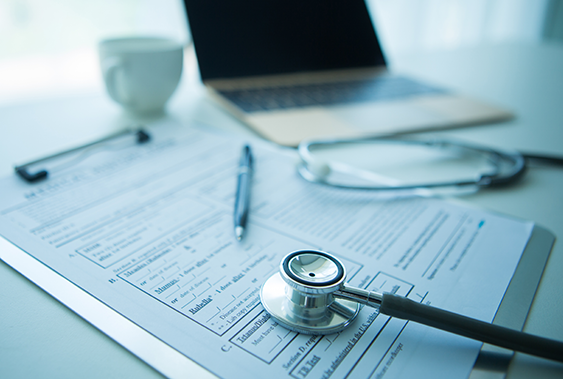 Understanding your downtime resources.
Depending on the downtime, you may still be able to access important patient data stored in Epic to help you care for patients. The following are three online resources that can help. To know which is available in a downtime, look for communications from IT or your facility, or talk to your manager or the unit charge nurse.
Epic Read-Only is available on most Epic-enabled workstations and through Apps Center. The data is up to date as of the time when Epic went down. Although it looks and feels just like Epic on your workstation, you'll have limited access to patient data but can still view active orders, the MAR, print patient labels and armbands. As the name implies, this is a view-only system, so you can't add new documentation or orders.
BCA Web provides access to essential downtime reports from any workstation, when you have internet access, but Epic and Epic Read-Only are not available. With BCA Web, you can view and print a current census or limited clinical summaries with data for each patient, including active orders, recent results and vitals. BCA Web also provides a printable downtime MAR for each patient and a respiratory patient summary.
Surgical units can access a master daily schedule with all the scheduled cases for the day. Outpatient clinics can view the Daily Appointment Report, which now includes patient schedules for the next four weeks.
These reports are automatically updated every 30 minutes for ICU patients and every two hours for non-ICU patients. For outpatient and Houston Methodist Specialty Physician Group and Houston Methodist Primary Care Group clinics, the department appointment report is updated daily.
BCA Printing has similar reporting functionality as BCA Web and is available from your unit's designated downtime computer when internet access isn't available. Your unit's device will also have access to reports for sister units above and below you, in the event their system has issues.
Because the computer is hardwired to a designated printer, you can mass-print all reports for your unit and distribute patient data to the appropriate clinicians or staff.
Questions you may have.
If you have questions about downtime procedures, review the Frequently Asked Questions section on the Downtime web page. Here's a list of the most common questions.
Can I see the documentation I completed just before the system went down?
How can I see what medications are due or when I last gave a dose?
Can I still scan medications using Rover when Epic is down?
What resources are available to help guide me while Epic is down?
Where do I complete my documentation while waiting for Epic to come back up?
What do I need to do when Epic is available again?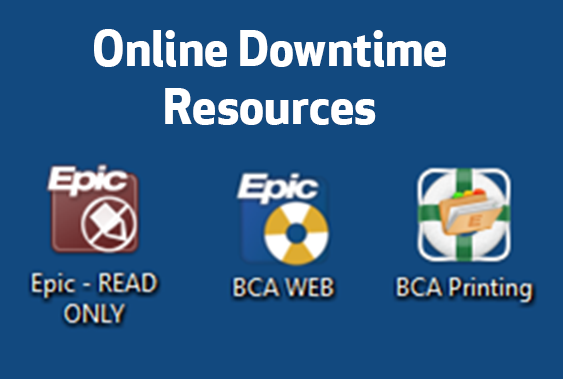 Preparation is the key to success.
Understanding your options and available resources is essential before, during and after a downtime, so there's no direct, negative impact on patient care. As we progress through the heart of the hurricane season, make sure your home and family are prepared, and be sure you do the same at work.
"Everyone has a responsibility to be prepared for any emergency impacting our facilities and our patients," said Jim Francis, IT vice president, technology and shared services. "We can't let any disruption to our network or systems impact our ability to continue providing exceptional care. Rising above a disaster is a hallmark of Houston Methodist."
Together we can weather any storm.