Houston Methodist's Epic system available to affiliated practices. Designed to meet their needs.
We're now offering our best-in-class Epic electronic health record (EHR) system to our affiliated physician practices through a program called Community Connect. Houston Methodist's Community Connect program allows HM-affiliated providers to purchase our top-rated Epic EHR and practice management system to use in their practices.
Unifying patient health records. Driving better patient outcomes.
In June, HM successfully launched the Community Connect program with its first seven physician practices, including numerous practice staff and 28 providers. Another launch is scheduled for Aug. 23.
When we first launched Epic five years ago at eight hospitals, seven emergency care centers and 150 ambulatory clinics, it connected each of these different areas within our system. Separate HM care team members and health care settings could now access and document in the same patient record, unifying each patient's health care history across our system.
Now, our Community Connect partners will be new connections within our growing health care network. This helps us further unify each patient's health care record, improving patient continuity of care and facilitating better collaboration among providers and clinicians — equipping them to make better care decisions and driving better patient outcomes.
"Community Connect puts a superior product within the reach of all physician practices," said Kevin J. Burns, HM executive vice president, chief financial officer and chief business officer. "This program embodies the unparalleled safety, quality, service and innovation they've come to expect from Houston Methodist. Through Community Connect, practices can leverage our robust Epic EHR system and all the hard work that teams across our system have invested to make it a first-in-class solution. It will help more practices provide better and more efficient patient care."
Improved care delivery process. More time for patient care.
Community Connect gives practice partners access to our Epic system, modules and applications, like patient registration (Prelude), scheduling (Cadence), Epic mobile tools (Haiku/Canto) and third-party applications, such as voice recognition (Dragon) and the ability to e-prescribe medications. This is enhancing their workflows and making them more efficient, allowing Community Connect practices to better serve their patients.
"Community Connect has cut our workflow time in half," said Dr. Monica Shields, FACC and new Community Connect partner. "This gives us more time to focus on patient care."
Dedicated team of experts. Ongoing support.
To support these practices and systems, it was important to establish a specific team of experts to help launch Community Connect and provide them with ongoing support.
Dr. Peter T. Nguyen, FACP, FASN and HMH medical staff president-elect and his practice were one of the first to join our Community Connect program.
"We transitioned to Epic to improve communication with our referring providers and to have the majority of our patients on a single platform," said Nguyen. "This is our third outpatient EMR, thus our second transition. With all transitions come growing pains, but we've had so much more support with Community Connect than we did with our previous vendors."
The Community Connect team includes specialists in Epic implementation, training, go-live support and post-go-live support. Our dedicated Community Connect Support Line provides practices with HM IT Help Desk support 24/7.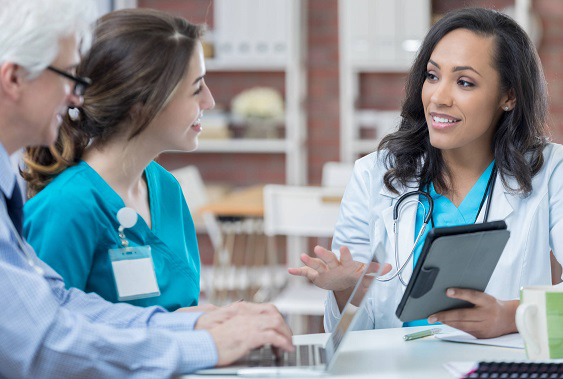 Houston Methodist Specialty Physician Group (HMSPG) and Houston Methodist Primary Care Group (HMPCG) clinics helped pave the way.
With Community Connect, practices gain the benefit of our top-rated Epic system and our vast EHR experience, at an affordable price. Before we launched Epic, countless workflows were tested and validated to ensure a smooth transition and today, we continue making vital Epic enhancements that improve patient care and make workflows easier and more efficient for our care teams.
Community Connect implementation teams were able to leverage work that's been done by practices in our HMSPG/HMPCG, who've used Epic since it first launched. Understanding some of the lessons learned by HMSPG/HMPCG providers and staff helped Community Connect teams and practice partners benefit from that experience.
Future connections.
Community Connect continues to experience an impressive surge of interest from our affiliated practices.
"Practices seek newer EHR and practice management systems that are scalable and cost-effective, yet have features included that will improve productivity," said Dr. Nicholas Desai, Houston Methodist Sugar Land Hospital chief medical officer and chief quality officer and HM chief medical information officer. "Houston Methodist's Community Connect is the solution."
With launches already scheduled for later this month and October and future launches anticipated through 2022 and beyond, HM is excited to continue leveraging its best-in-class Epic system, and all the hard work that's gone into it, to provide seamless patient care and improve each patient's health care journey.