Barcode specimen scanning. Improving patient safety.
If you've ever been admitted to the hospital, chances are your stay involved bloodwork. Typically, labeling the blood means clinicians manually input your information and mark up your specimen tubes before sending them to the lab — a manual process increasing room for error.
Fast forward to today — a new systemwide initiative is improving patient safety by reducing the risk for errors. Barcode specimen scanning is a technology where clinicians use barcode scanners to scan the patient wristband and lab label, then print labels at the bedside. We're nearing the end of a 14-month rollout that began last August and is ending when Houston Methodist Willowbrook Hospital launches in October.
Until now, specimen labels printed at a central printer at the nurses' station or in a printer room, and nurses had to sort through labels for a number of patients to find the label for their patient, then write the time, date and their initials on the label. Barcode specimen scanning makes it safer for our patients and easier for our clinicians.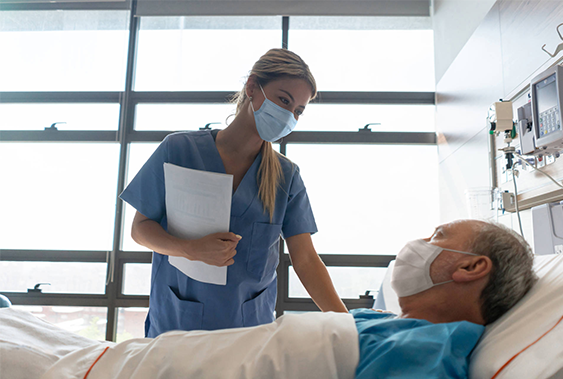 The right label for the right patient.
Printing labels at the bedside significantly improves patient safety by reducing specimen labeling errors. This technology also streamlines the specimen collection process, resulting in faster turnaround times to get test results — meaning providers can make patient care decisions sooner.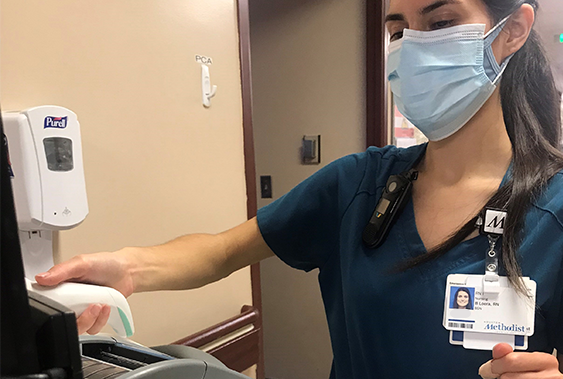 "Houston Methodist's goal is to be the world's safest hospital," said Vicki Brownewell, Houston Methodist West Hospital and Houston Methodist Continuing Care Hospital chief nursing officer. "This initiative, and others like it, are all in pursuit of this."
With this tool, we're ensuring the right labels print for the right patients at the point of care during specimen collection. In addition to reducing errors, barcode scanning eliminates the need for the lab to relabel specimens when labels don't print as expected.
"Labeling specimens always has a potential for human error, but incorporating this technology reduces the chance that a specimen will be misidentified," Brownewell said.
Since this systemwide rollout began last year, about 1,450 wireless lab label printers have been installed, and over 1.5 million specimens have been scanned.
Helping nurses help patients. 
"Our nurses were eagerly anticipating this new technology, and we expect that it will significantly impact patient safety and nursing efficiency," said Janet Leatherwood, Houston Methodist Sugar Land Hospital chief nursing officer. "Scanning the patient's wristband and a printer helps to ensure the right labels print for the right patient at the point of care during specimen collection."
Many nurses from hospitals where specimen scanning launched have voiced positive response to this new tool.
"It's another measure to ensure patient safety," said Mariana, RN.
"I love the new process. Having the reassurance that the right specimen for the right patient is collected rocks!" said Brianna, RN.
"This is easy," said Catalina, RN. "Strange not having to get a second signature."
"Our clinical staff appreciate the specimen label scanning as another tool that supports patient safety," said Andrea Harrow, chief nursing officer for Houston Methodist Clear Lake Hospital. "They are excited about the time-saving and error-proofing by no longer needing to write the date and time on the specimen label. Keeping our patients safe is our top priority."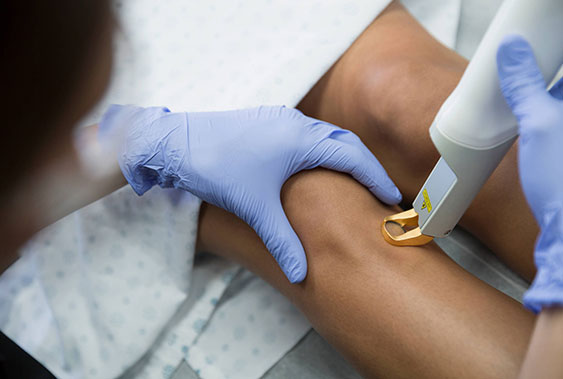 Listening to clinicians. Continually improving.
Like any new initiative, we're always looking to identify areas for improvement by gathering feedback from our nursing and clinical staff. Throughout this systemwide launch, we surveyed our care teams to identify any barriers to using the new technology, to improve upcoming launches and to gather input for future enhancements.
We've received hundreds of responses from nurses and other clinicians. Overall, nurses and others like using the new tool, feel that it helps them do their jobs more efficiently and believe it improves patient safety. We also received responses suggesting ways to improve efficiency, equipment, training and support during the project launch.
When we introduce a new technology to help our clinicians and improve patient safety – and when we ask those using the new system how it's working for them – this is how we continually raise the bar in patient care.
Better for clinicians. Safer for patients.
"Lab, IT and nursing personnel continue working together to ensure this important tool functions well to help keep our patients safe," Brownewell said.
Initiatives like barcode specimen scanning are another example of how we work to provide unparalleled patient care, while making it easier for our care teams.