SickBay. It's not just for Trekkies anymore.
If you've ever watched Star Trek, you know about Dr. McCoy's sick bay on the USS Starship Enterprise.
It's where 1960s-era television writers predicted advanced technologies, like full-body monitoring, one-tap communications and flip-phones.
Star Trek's Dr. McCoy treated anything and anyone during the five-year trans-galaxy voyage with a crew mission-bound to boldly go where no one had gone before.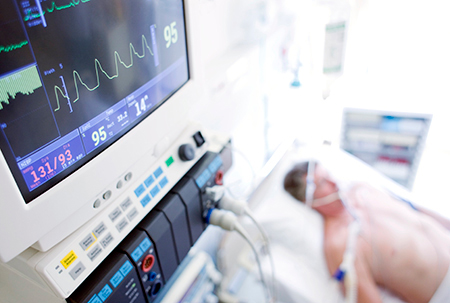 Fast forward 50 years.
Enter SickBay – a new technology providing advanced clinical monitoring in our first private cardiovascular ICU rooms.
"There's an industry trend toward moving patients to private ICU rooms, instead of open-bay or open-door ICUs" said Melita Howell, IT medical device integration manager.
In an open ICU, nurses monitor patients by sitting close to all patients on the unit. They can see their patients and hear audible alerts from bedside monitors.
In private rooms, SickBay takes data from multiple medical devices, like cardiac monitors and ventilators, synthesizing it on a single screen. The system provides visual onscreen warnings and audible alerts so staff can proactively intervene. It also provides minute-by-minute patient surveillance instead of hourly vital signs obtained from patient rounding.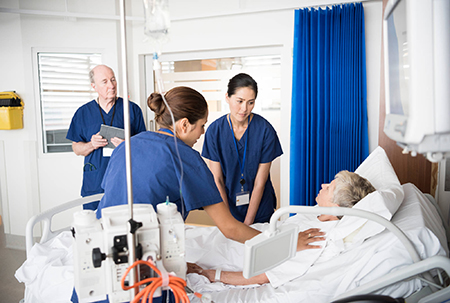 Changing how we practice medicine.
SickBay's initial Walter Tower installation is paving the way for expanded use in other critical care environments.
It provides real-time patient data monitoring and can link cardiac waveform information directly into Epic. On the ICU floor, it provides nurses a single display screen for monitoring multiple patients, instead of several different devices. On the go, clinicians can see things like cardiac waveforms from any workstation or mobile device.
When Walter Tower opens, this one screen will display cardiac and ventilator monitoring. In the future, we can add more medical devices like extracorporeal membrane oxygenation, an advanced system supporting heart and lungs in critically ill patients.
On the horizon – providers can see a patient's cardiac history. This makes a big difference.
When physicians can see patients' cardiac waveform histories, they can scroll through data from the past hour or even a year ago, identifying patterns or anomalies. With that level of visibility, physicians can see exactly what's happened with a patient's heart, targeting interventions.
SickBay saves all this patient data, making it available for research. This allows us to develop algorithms for early interventions based on specific physiological data.
Made possible with new SickBay technology.
SickBay provides a safer, more pleasant patient experience. The new technology means cardiac ICU patients can stay in private rooms, while benefitting from next-generation patient monitoring.
Better for patients. Better for providers.