Clinical imaging advances. Improving patient care.
Radiology, cardiology, mammography, X-ray, MRI. These were examples of clinical imaging with entirely separate technology systems.
That was then. Different systems and workstations.
Previously, our Houston Methodist hospitals and clinics used varied technology systems and workstations – even within a single hospital or clinic.
So, there was significant technological variation throughout the organization. Physicians had to switch between the different systems all the time.
For example, this meant using one system to view images in the hospital. And one of several others to view images in the clinics.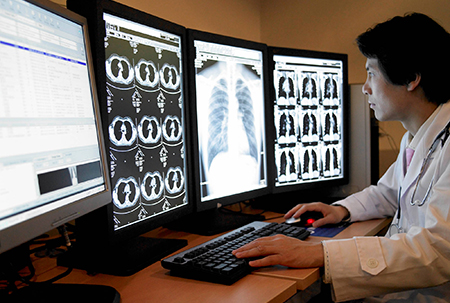 This is now. One consolidated system per specialty.
We've taken the lead in enhancing usability for clinical imaging for our physicians. Not only within the Texas Medical Center, but among most hospital systems nationwide.
"An X-ray you may have done in your orthopedic office now can be stored in the exact same place as one done in the hospital department," said Michel Shimp, Director, IT Clinical Systems. "Patients don't have to carry a CD with them."
We are moving to one combined repository of all images. This allows physicians in each specialty to access images from any site in the health system.
It's better for physicians. And for patients.
This new capability saves time – for physicians and patients – by making clinical results available faster.
Consolidation provides easier access to information that leads to better clinical decision-making.
"Clinicians are now able to see all these imaging studies performed at any Houston Methodist location," Shimp said.
This means physicians can treat patients sooner than with the old systems. Faster treatment means improved patient care. It also means better physician satisfaction. And it makes for easier referrals from non-Methodist physicians.
Better financials with advanced image storage and retrieval.
Integrating inpatient and outpatient imaging also yields financial benefits for the organization.
"By consolidating these images into a single storage location, we're able to control the growth of one system," Shimp said.
"Historically, we had many different imaging systems that had to continue to grow, each with their own cost related to that growth," he said.
"As we've consolidated Physician Office image storage systems into the hospital ones, we've been able to decommission about 10 PACS imaging systems within the PO," Shimp said. "So there's an immediate reduction in cost from those decommissioning activities."