Streamlining nursing documentation for greater efficiency.
Sometimes, even in the most trying of times, opportunities for good can arise. The COVID-19 pandemic left many clinicians stressed and fatigued, but it also shed light on an area where we can improve — clinical documentation.
As COVID-19 fatigue set in for our clinicians, chief nursing officers throughout Houston Methodist recognized the need to streamline our current processes.
"If you look at how much time is spent on documentation, it's a real eye-opener," said Janet Leatherwood, HMSL chief nursing officer. "It's become confusing and complicated. We owe it to our staff to get it improved."
Nurses document a real challenge.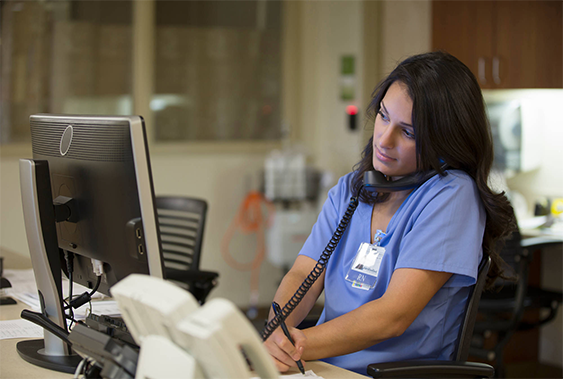 The responsibilities of inpatient nurses are long and varied. They must balance the care of their patients while also tracking vitals, performing diagnostic tests, administering medications and providing patient and family education. All the while, they are documenting a patient's care.
"I probably spend at least two to three hours of my shift doing documentation," said Karla Vitrella, RN, HMH Walter Tower 14. "That's time I could have spent offering a patient encouragement or providing more patient care, like helping them to eat or care for themselves."
Despite their essential role as care providers, nurses are expressing more frustration with too much time away from patient care.
"It's very lengthy," said Cecilia Sandil, RN, HMSL Medical ICU. "There are so many options, and so much is the same. I just want to focus on what needs to be done so I can be there more for my patients. That's why I became a nurse in the first place."
Creating better Epic workflows.
In the six years since we began developing our nursing workflows in Epic, the system has evolved significantly. Today, there are thousands of possible flowsheet rows for inpatient nurses to document on, many with repeated details or unnecessary additional clicks.
"It's common for other Epic customers to go back at some point in their Epic lifecycle and review their workflows," said Suzan Lee, IT director of clinical applications and informatics. "After a while, you need to assess what you have to bring greater efficiency and let your nurses work more effectively."
To that end, program directors of informatics — all RNs — systemwide were tasked with reviewing existing nursing documentation to streamline Epic workflows and create a consistent, systemwide approach.
More than 25 nurses from medical, surgical and ICU units at each campus are now reviewing each flowsheet row in Epic and recommending changes to eliminate redundancies and make the entire documentation process more manageable.
Among the groups' guiding principles are:
Attention to the needs and best interest of the patient.
Adherence to all regulatory requirements.
Optimization of workflows that drive effective and efficient utilization of the EHR and HM best practices.
Streamlining and simplifying existing HM processes.
Arriving at systemwide, evidence-based decisions that drive consistent outcomes.
The project team first met in early February and will continue meeting for the next four months. Any recommendations by the group must be agreed to by a majority of campuses and then approved by system quality and accreditation departments.
"We're building a documentation system that is concrete, without redundancy and unnecessary rows," said Mercedes Summers, HMWB program director of informatics. "The system should follow the nurses' typical workflow, not dictate how that workflow should be."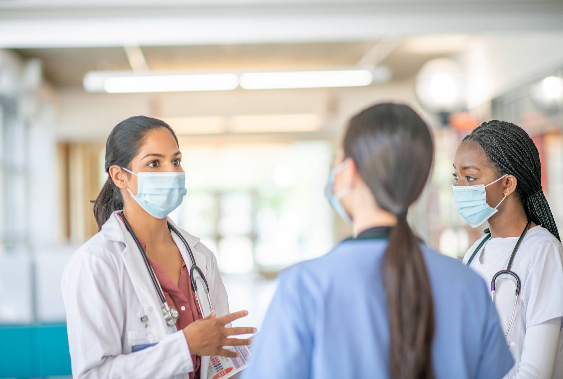 Nurses drive the change.
The initial call to help improve documentation resulted in interest among many nurses. The opportunity to transform the system resonated with staff and is core to our nursing Magnet programs, as well as shared governance efforts.
And although the project is still young, the team is working quickly. The discussions are frequently lively, guided by IT analysts experienced with the overall system, and conclude with a consensus vote on each recommendation.
"This whole effort directly impacts our frontline nurses, so gathering their input is essential," said Nickolaus Escobedo, HMH assistant chief nursing officer and project sponsor. "They understand how these workflows are viewed. They're the ones who use this system every day. So, the fact that the recommendations come from peers will also help nurses adopt and use the improved system when the final changes are made."
The end result of this effort is an Epic system that makes it easier for nurses to do the required documentation, providing more time for hands-on patient care.
"When this is complete, I believe we will have a better, more effective tool to use," Sandil said. "We know what needs to be there, and we just want to spend more time being a nurse."